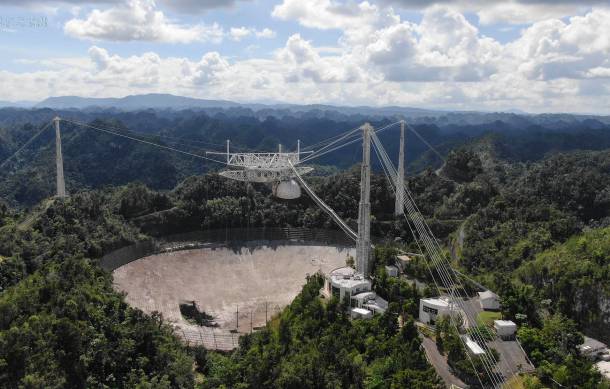 The historic Arecibo Observatory in Puerto Rico has had a rough year after a partial collapse in August.
Two additional collapses have now occurred, and the telescope is slated for destruction soon.
The telescope's cables have been failing, and most recently a large platform fell from its perch high above the dish.
---
The massive radio telescope at the Arecibo Observatory in Puerto Rico has had as tough of a year as any of us. The structure suffered a collapse and severe damage in August and as engineers planned for repairs, further damage occurred, leading to the tough decision to decommission the telescope entirely.
Now, just weeks after the decision was made to demolish the telescope, the structure has begun to take care of that all on its own, further collapsing and posing an interesting problem for workers who are tasked with breaking it down. The telescope, which has been offline for some time already, is now well and truly dead.
---
Today's Best Cyber Week Deal

---
Today's Top Deals
Trending Right Now:
This failing radio telescope in Puerto Rico is collapsing under its own weight originally appeared on BGR.com on Wed, 2 Dec 2020 at 00:18:00 EDT. Please see our terms for use of feeds.