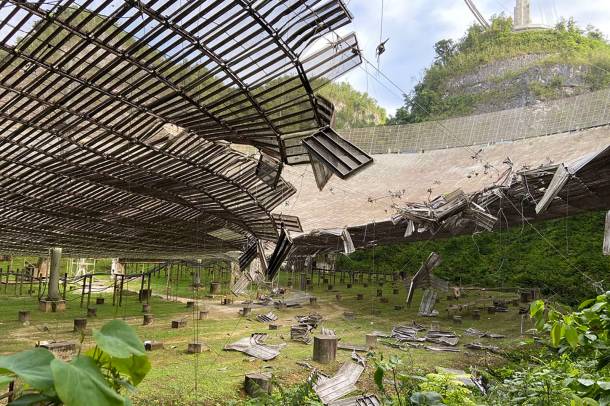 The Arecibo Observatory suffered another devastating structural failure on December 3rd, and it was caught on video.
The footage shows the receiver of the telescope and its support platform and cables collapsing and falling down onto the dish below.
The telescope will be decommissioned and destroyed as it is considered not repairable.
---
By now you've likely already heard about the collapse of the massive radio telescope in Puerto Rico. The saga of the Arecibo Observatory is a tragic one, starting with a small amount of damage that was scheduled to be repaired before the rest of the telescope began falling apart of its own accord.
The most recent event in this unfortunate timeline came on December 3rd when the massive suspended platform holding the telescope's receiver collapsed down onto the dish below. It was truly the last straw for the telescope, which has already been marked for destruction after engineers deemed the structure too busted to save.
---
BGR's Top Deal of the Day




$25.49
Available from Amazon Prime. BGR may receive a commission.
Buy Now
---
Today's Top Deals
Trending Right Now:
The Arecibo Observatory collapse was caught on video originally appeared on BGR.com on Tue, 8 Dec 2020 at 21:07:13 EDT. Please see our terms for use of feeds.